How Silktide is normally used
This is how Silktide is typically used by organizations on a day-to-day basis.
Monthly leaderboards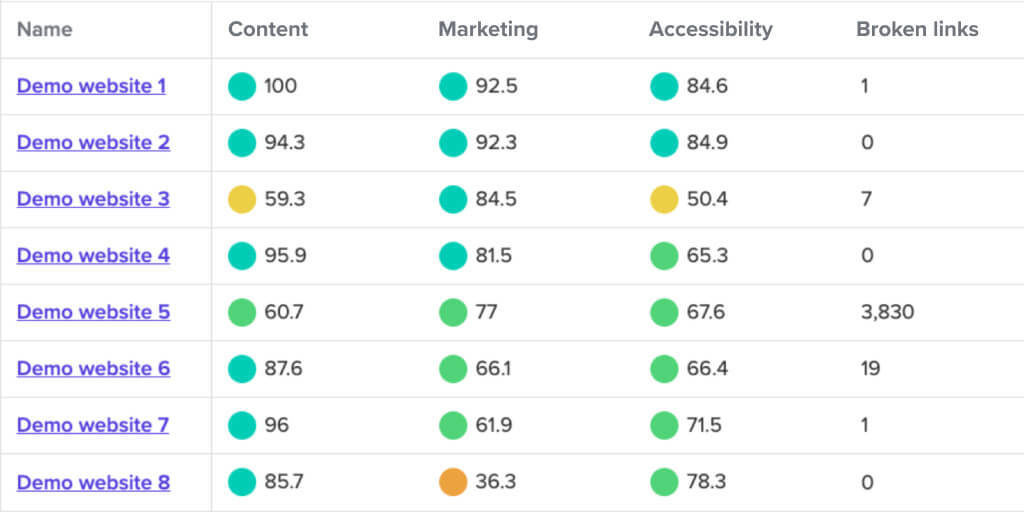 Silktide emails members of your organization one or more leaderboards. These summarize the performance of your websites, or parts of your websites.
Leaderboards help show where your organization is relative to your aims. Are you on track to meet them in time?
Leaderboards help everyone understand how they compare to their competitors and peers. Are you pulling ahead or falling behind?
Leaderboards help reward achievement, by sharing your team's progress among your organization.
Leaderboards also help incentivize future change, as everyone knows they have another month until the next scheduled leaderboard shares their performance.
Some organizations go as far as to target employee bonuses or OKRs around specific KPIs reported by their leaderboards.
Real-time alerts
Whenever your website is changed:
Assuming Silktide is integrated with your CMS, any published changes to your website are checked immediately. (If not, Silktide checks every page every 5 days, and can perform manual checks on demand).
When new problems are found, Silktide sends email alerts to appropriate members of staff. For example, a spelling mistake might be sent to the content editor of that area of the website. A technical accessibility issue on the same page might be sent to a developer instead.
Problems are highlighted visually on the webpage they affect. With a single click, the user can move from Silktide into the CMS for the affected page, to fix the issue. When the page is updated, it is automatically checked again by Silktide.
As problems are fixed, they are recorded and can be viewed later in a timeline. This helps to show progress made by a team.
Periodic reviews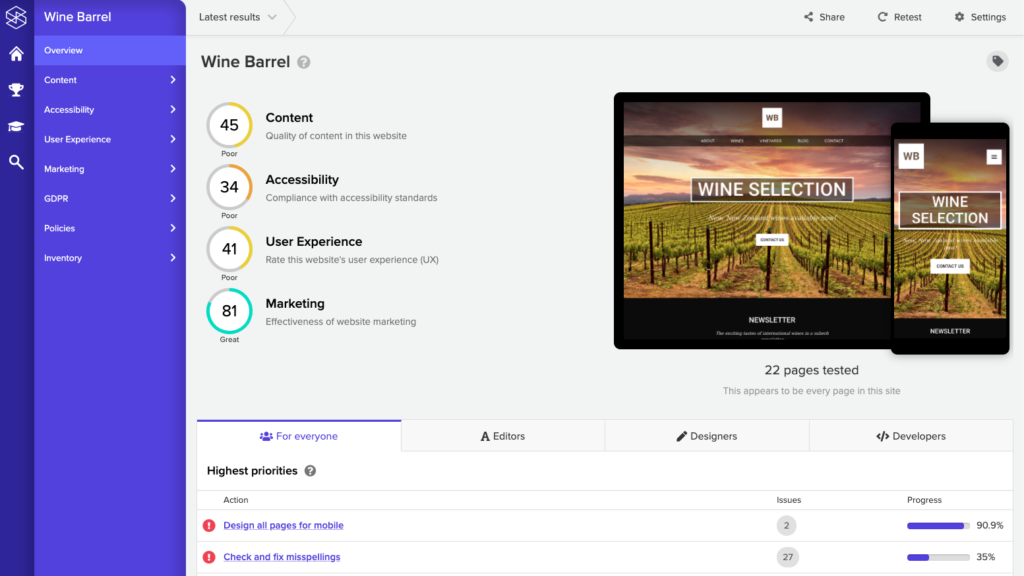 Whenever your website team wishes to review their priorities:
Your staff view a Silktide report for a specific website or section of a website.
Silktide shows prioritized actions to improve the website, with supporting documentation and contextual information.
You can dive into specific areas of interest, such as accessibility or search engine rankings. Or explore specific areas of responsibility, like content editing or development.
Where areas are not relevant or deemed inappropriate, you can make decisions to ignore them in future.
Ad-hoc queries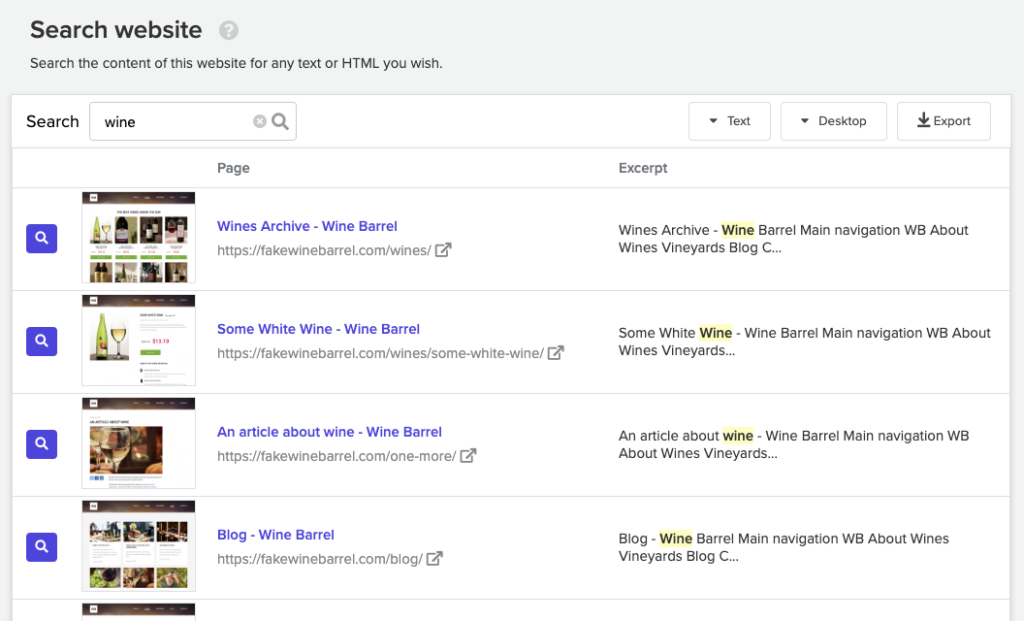 From time-to-time, staff may use Silktide to satisfy a specific query they have with your website, e.g.:
What pages contain specific text or content? (see how to search your website)
What PDFs do we have that are older than September 2018?
What cookies and 3rd party technologies do we use?
Which pages don't link to our privacy page?
What do all of our meta descriptions say?
What analytics software are we using?
These and hundreds of other ad-hoc queries can be satisfied by using the appropriate report screens for a given website or website section.
Occasional refinement
Roughly every 3 – 6 months we recommend you review and update your Silktide configuration:
Introduce new policies, to automatically catch specific concerns with your website. For example, you could prevent the use of an old product name, or require that all links to 3rd party websites open in a new tab.
Update your search campaigns, to capture more customers and markets as they emerge.
Update your leaderboards, to best highlight your progress towards your organization's strategic goals (e.g. to make your website accessible by a given date).
Incorporate new tests and checks as Silktide releases them.
You can undertake these steps at any time. If you have a Customer Success Manager, they will walk you through this and more on a schedule they will agree with you.